RT-Briscoe's football team has emerged winner of the EMWA 2021 5-a-Side Soccer Tournament which took place over the weekend in the Magodo area of Lagos.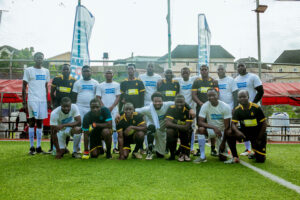 The team's dazzling performance, dotted by speed, strength, accuracy, and a pure passion for football akin to that found in street football enthusiasts, helped them scale through to the finals.
RT Briscoe then clashed with Mikano/Geely in the finals where they overpowered the latter in a 3-nill trump to emerge winner of the game.
In a social post that announced the soccer event, Zenith Exhibitions' management said the tournament was organised not only to promote fitness and wellness but also to help bond with its clients and business partners as they look forward to EMWA 2022.
The event had teams from Zenith Exhibitions, Atlas Copco, RT Briscoe, Mikano/Geely, battle for the trophy.
In a world filled with competitions of all sorts, for an excited coach of team RT- Briscoe, Ogwuche Cyril Isaac winning on any level leaves you with a sense of pride.
As it is with football banter, winning bestows a bragging right on a team which goes a long way to affect its self-esteem. He also argues that such victory could boost your confidence in carrying out business strategies.
"Yes, it was a simple football match. It was friendly. Yes, it mattered that RT Briscoe won and we feel pretty good about it," he said.
The coach revealed that the victory was not expected, but they were optimistic given the existence of a team already in place before they received an invitation to participate in the tournament. 
He stated that his organisation highly encourages intercompany bonding which the tournament has helped to promote, adding that it has also helped networking and healthy competition amongst business competitors.
"We think it's a well thought out plan from Zenith Exhibitions. This is yet another platform to exhibit business sportsmanship. Kudos to sponsors," he said.
He also commended the overall success of the maiden edition and further recommended more sponsorship, professional organization of sporting events, female inclusion, longer notice for teams to prepare.
Speaking shortly after missing a penalty kick which made his team, Atlas Copco, lose the game to Zenith Exhibitions, the Business Line manager  Olusola Aluko said the loss has taught them a lesson to be better prepared for the next edition.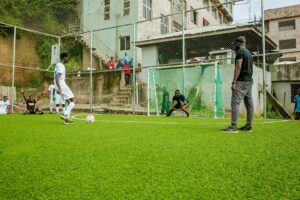 "We tried as a team. We played to the best of our ability. I lost my penalty kick which made us lose the game. It was painful because I expected us to win.
"It was also a lesson for us to be better prepared. Congratulations to the winners. We'll come back again and next time I won't lose my penalty kick," he intoned. Let me start by thanking Zenith Exhibitions for a wonderful game show. It's not all about business. Sometimes you need to find time to relax.